His new family and all the grandchildren adore him, he is getting on very well with every one and his skin brother Nathan thinks he is just perfect. Settled in well and he loves his new fur brother as well.

Couple of the happy Buster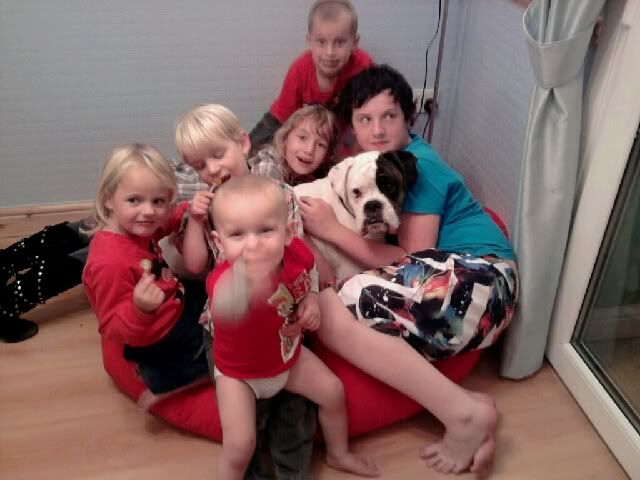 well the other night i was going through the foster's thread archive and i found Ellie's foster's thread and it occured to me although im on here annoying you allll the time i never really tell you how Ellie has been getting on so here it is

Ellie is spot on with Ethan i cannot fault her one bit at all. She gets sat on pulled around by her collar walked on the lead by Ethan tornmented in her tickly spot just so she scratches with her leg which Ethan finds Highly amusing.

As soon as Ellie met Patch there was no denying that they were going to best buddys for life she sees that no one picks on him and if they do they are in for a shock Drama queen Sarah <<,, she may be a bit crippled but she has fire in her belly.

When we first got Ellie and we walked her she couldnt run and would just plod around behind us in fact many a time we thought we had lost her when we looked behind us. Only for us to look behind us and down she was always right there waiting for you to move again LOL::: She is now like a puppy running around like a loony although this does have to be restricted as her hip dysplacia and arthritius is getting quite bad now but it makes me happy tht she likes to run up and down.

Ellie has been so good in letting the foster dogs come in and out of the house in fact in the 9 we have had she only had a real dislike to one where she got beat up pretty bad but all in all she loves most dogs she meets and i have no worries about her here are some photos of the gorgeous girl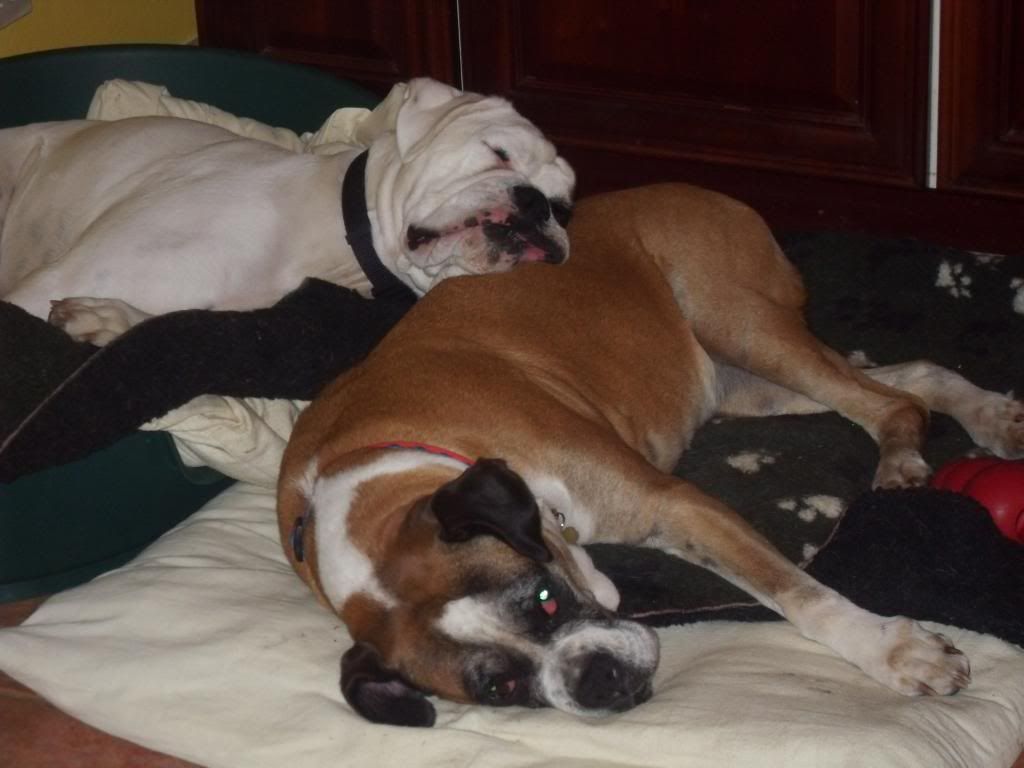 Happy Gotcha Day our gorgeous big puppy dog! Can't believe it's a year ago today that he came into our lives and we couldn't be happier.

Both me and my husband Neal decided that we didn't want to extend our family anymore with hoomans but I'd been asking for a dog for quite some time. I'd always grown up with dogs but Neal hadn't and he just didn't get dogs as he'd never owned one!!!!! So after much pleading and me spending at least 6 months trawling the internet looking at various rescue centres and thousands of dogs I stumbled upon dogs blog and saw him. Jenson. Possibly the most handsome looking dog I'd ever seen in my life and that's when I discovered Northern Rose Boxer Rescue. Jenson had been found as a stray and served his days in the pound and was due to be PTS but from what I remember of his updates the kennel staff had said he was too good natured and was taken in by NRBR. He spent a very long time in kennels before Dani his foster mum saw him in kennels and fell in love with him and asked to foster him. I sat looking at his pictures everyday and finally plucked up the courage to show him to Neal. He loved him. I don't have the pictures but Dani his foster mum will probably provide them and there was a picture of him having a bath and one of him ordering a drink from the bar which shot an arrow straight through our hearts. Before we knew it we'd filled out the apply to adopt form and had our homecheck and collected Jenson within the space of about 2 weeks. I've only just found out this week that Neal didn't realise we would be bringing him home with us that day, he thought it was just a visit and that we'd come home, talk about it, then possibly go back for him. Eejit, it was a given he'd be coming home with us.

Jenson has been an absolute star in his first year with us considering what the poor boy must have been through. When Jenson first came into the rescue he was scared of most things and a very nervous dog. He would go to ground which showed that somebody had not been very nice to him, but his wonderful foster family taught him how to be a dog and how to be loved and we have carried on those teachings. When he first arrived at ours he was petrified of the sweeping brush and would cower when ever it came out, he now plonks himself in front of it and likes to be brushed with it. Jenson loves nothing more than having his family together, he especially likes his walks when we are all out together, I think because Eric and Rhianna play hide and seek with him (Jenson always wins).

He's adapted to our way of life brilliantly, he loves to come camping with us, he holidays with us because we can't bear to be without him, he's such a gentle soul really considering his size. He's a bit of a muppet where other dogs are concerned since he's come to live with us, but he loves us and thinks he has to protect us. I don't mind that at all. Don't think Neal could cope with 2 dogs shedding and drooling. Oh the drooling, now there's a party piece he likes to show off. I think everyone of my friends has a video on their phone of Jenson being fed Mini Cheddars whilst his drool forms BUBBLES! And we've adapted to his. Our house is a lot calmer since we've had Jenson.

I could go on and on about everything Jenson likes and what we love about him and I think I already have but I just wanted to let you all know HOW MUCH WE LOVE HIM and I think HOW MUCH HE LOVES US.

I just wanted to thank NRBR because not only have we been lucky enough to have Jenson in our lives but we have made some strong friendships through here and not all of them we've met in person.

I specifically want to thank Dani, Paul, Jeanette, Ethan, Lee, Patch, and Ellie for giving Jenson a chance to shine.

I want to thank Kevin for transporting him out of what he told me was one of the worst pounds he'd ever seen.

I want to thank Tracey for doing our homecheck and passing us.

I want to thank Jane and Gail and everyone else who displayed an e-mail address for contacting me after my mass e-mail when I got the green light from hubby, I'll also apologise now for bugging you all.

I also want to thank my husband Neal for letting Jenson join our family which is now complete. Like I said before Neal didn't do dogs and he loves Jenson to the point of bordering pathetic. They have a real bromance going on.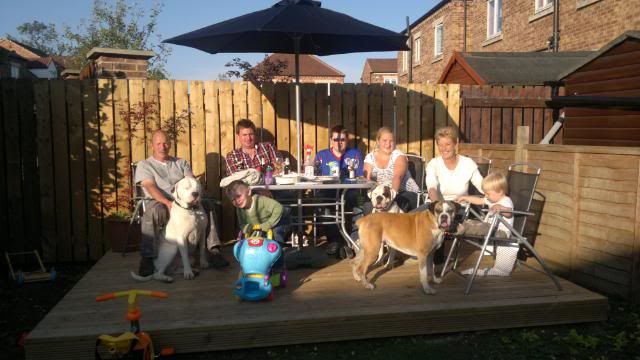 Winston was adopted by us in August 2011, he'd had to have 2 lumps removed from him by a vet which NRBR had funded. He settled really well when we fetched him home & hes really become part of our family, he sleeps on his bed at the side of our bed after we said he'd sleep in the kitchen, he sits on the sofa after we said the floor was his. He really is quite a celebrity in the village where we live, if we go out with out him everyone wants to know where he is. He is quite a character, hes got a spaniel nextdoor that he likes to play with & has an unhealthy obsession with footballs, our garden is packed full with stray balls his found in the park or on the football field! Hes fetched much joy & happiness to our lives & its rewarding when he returns the love & affection we've given to him.


Hi all, sidneys had a dickie eye for the last month or so, we think he scratched it out walking,and got a small ulcer on it, he had it scrapped twice,and now it seems to be mending great,he's a great lad ,loves his walks in the country or in town,we've started taking him into chester more now the evenings are lighter,he loves being fussed over and believe me what should take us 10 minutes to get to the river takes a lot longer people stop us to stroke him ,which he loves,he's still not to sure about the river though,but the last couple of times he has put his paws in ,generaly after walking through the biggest mud piles that he can find lol..he's grown into abig lad,(i say its all the treats off jess) at now weighes 37.4 kilos,but looks well on it.anyway heres some photos, we will put some more up ,when hannah can find her camera..chris ,jess,and sidney.xx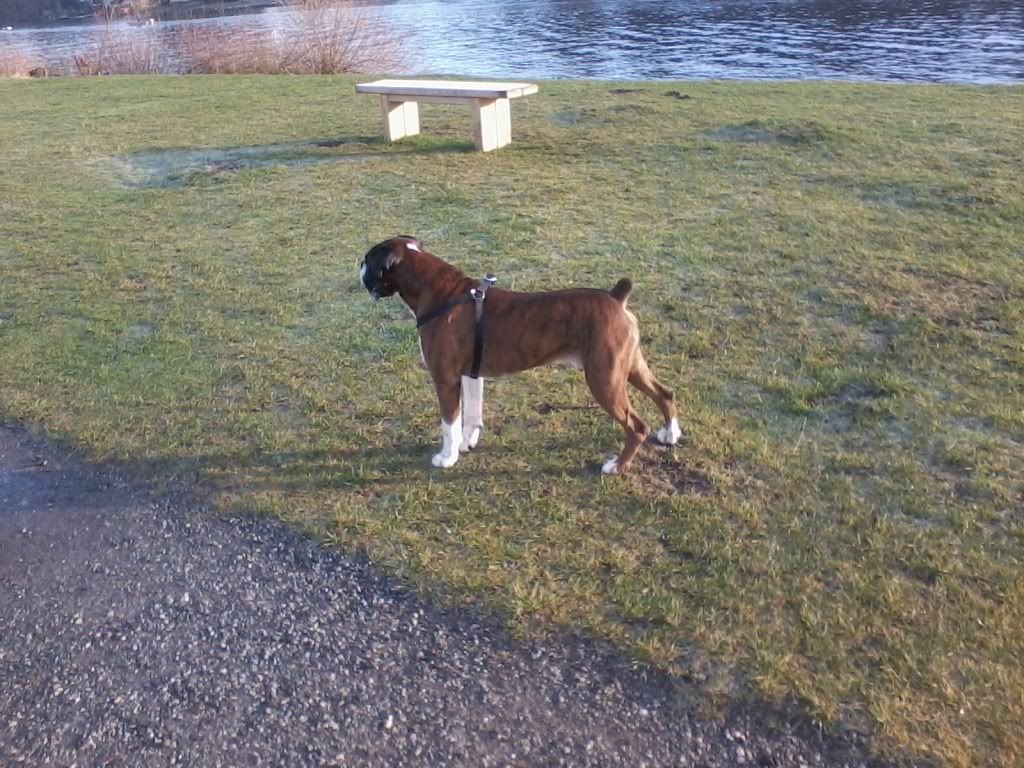 We do like a granny name, so May has become Mabel - so not too confusing as a name change, more a name adaptation! She has settled in really well - a bit of fluffing on the first nights we left her to sleep in the living room, but she was no bother last night.

Totally clean in the house, and seems to have a bladder of steel as she can go for a whole walk and only do one pee! Nice poos too.... Just the way we like it, easy to scoop Winking>>>..

She acts like a playful puppy around other dogs, and is desperate to get to them - but her recall is not at all watertight, and so we'll be working on this so she gets safe playtime. She is a real smoochy chops and looks like a real innocent, but she's definitely got a little minx in there too <<higs>>

Here are a few photos - I'll try to get some outdoor shots soon too, but my photographic skills leave a lot to be desired!

New bezzy mates:

We have had Casey for 6 weeks now, it feels like she has always been here she is so adorable!
We wanted to share some pics, so here goes! Hope you like them Gail x


Ruby is a little star and other than some separation anxiety she is settling in really well. We are sure the separation issues will settle with time and patience and its something we are working on, as I am home from work at the minute so can build up periods where Ruby is left completely alone gradually so she is sure we are coming back to her!
Bless, I was in hospital and it broke Leif's heart every time he had to leave her; she would lie down in front of the door to try to stop him leaving!


She is making lots of local friends, including Daisy the labrador who belongs to our dog walker and she plays with in the park. She is also a fully integrated member of the extended Boxer pack who we have renamed the famous 4! I think one more and it'll be the genuine article but Leif is thinking we need to wait a while first haha!

On her walks she behaves really well - shes quite nosey and easily distracted like any typical young Boxer so we are working on her recall to ensure she comes back every time, but she is good with other dogs and people and is a pleasure to own!

Well, thats it for now, I've (hopefully!) attached the pictures properly, I'll be back on soon with more updates as the family and extended pack are all off to Wales in a couple of weeks for a long weekend, so lots of beach walks and fun on the farm!


Victoria, Leif and Ruby xxxx
Lenny is well and truly settled into his Forever Home now. After an initial spat with our already existing old rescued boxer Harvey (aged (perhaps) about 10 or 11 - him with the one Frankenstein tooth and the projecting lower jaw !) in which Lenny more than held his own but without actually taking the fight to Harvey, honour was apparently satisfied, and they very quickly got on well with each other. I've already posted a couple of piccies of Lenny and Harvey on their very first night together just over 2 months ago now.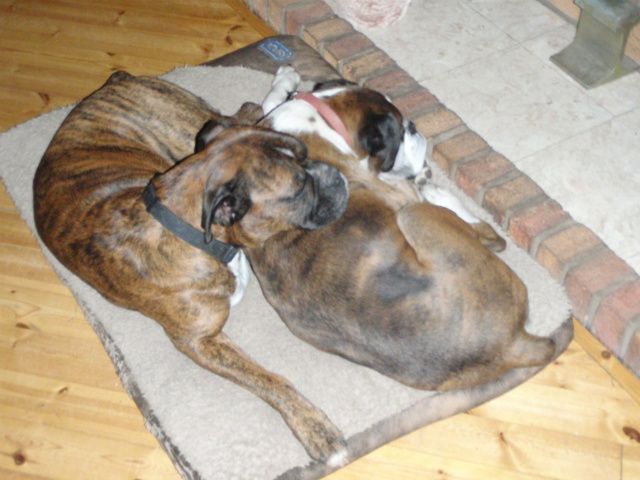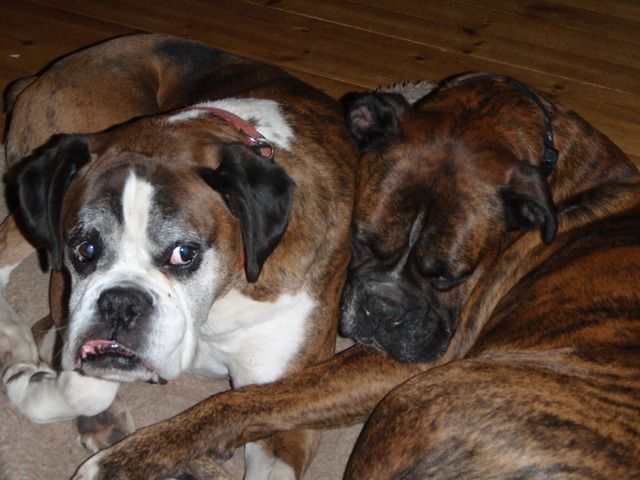 We collected Kathy last weekend and we can't believe what a good girl she has been. Our first day was a trip to Pets at Home and then onto the vet and then a long walk. She was so well behaved with everyone and excellent in the car. We got a stop / pull harness and she is great on that. Her foster mummy warned us about her habit of opening doors ( in & out) and she didnt take long to break into the pantry - hee hee! A baby gate and a couple of new door bolts have sorted that out! She has been getting long walks in the morning and has been fine when left, even during the big thunderstorm. She loves to play ball and gets on with everyone except cats!! Photo's to follow.....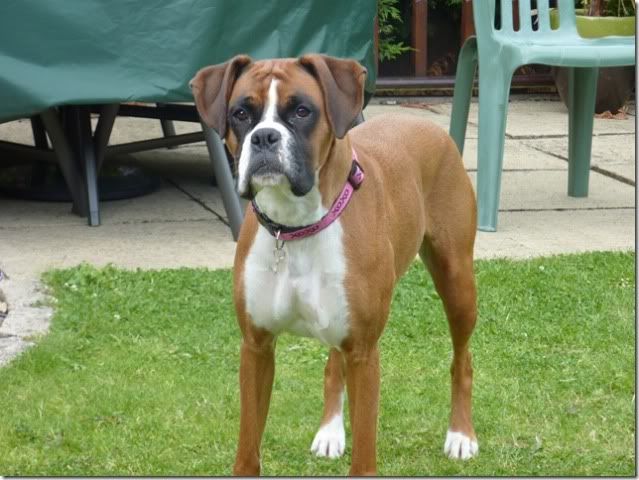 Tyson is doing fantastically, I cant think of a time when he wasn't here. he's like one of the family. My little sister who's 10 was scared of dogs til she met Ty!!!!!

We're currently having a chewing plastic thing at the moment tho. So off to the pet shop for me tomorrow for some more toys suitable to chew on.

He is not so chunky anymore and we've had his collar reduced by an inch. So the exercise is paying off. His coat is really shiny and nose has totally healed up too.


One month from gotcha day!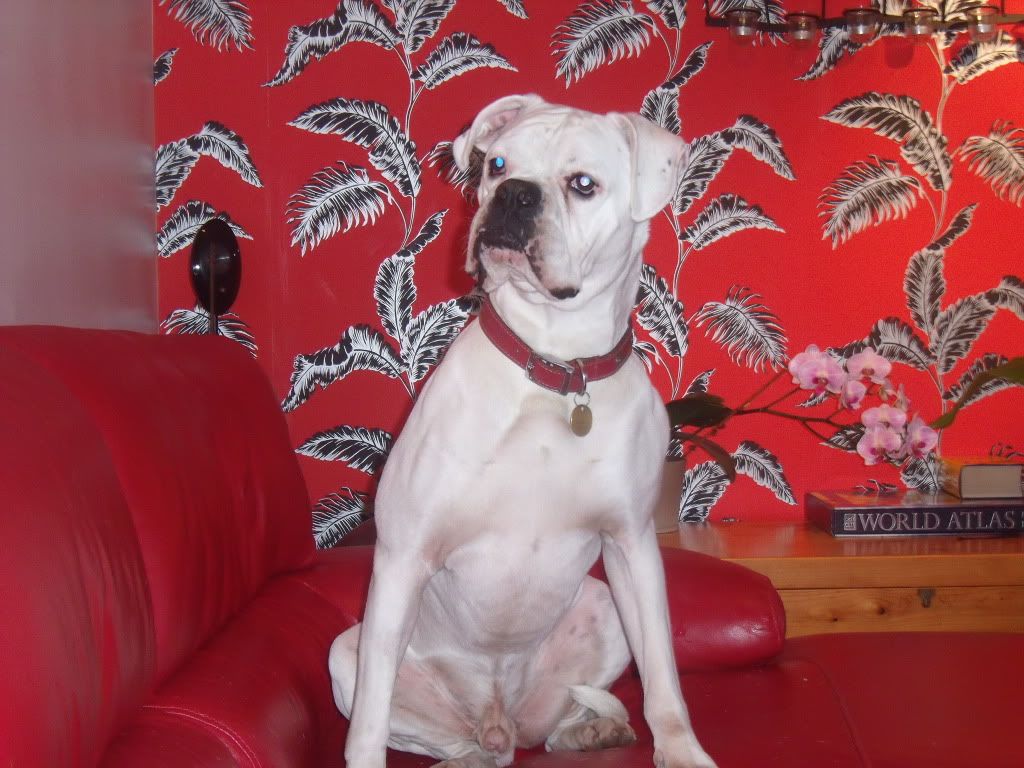 Heres a few pics of the gorgeous Toby
Toby was adopted by Karen & Del in December from NRBR.

Poor Toby has repeatedly split his tail to the extent it had stopped healing and they couldnt stop it bleeding
so on Wednesday he had to have it removed :( at the same time hes was neutered
Anyway hes making a fab recovery & Ted and I met Karen with Toby in the vets this morning
what a babe he is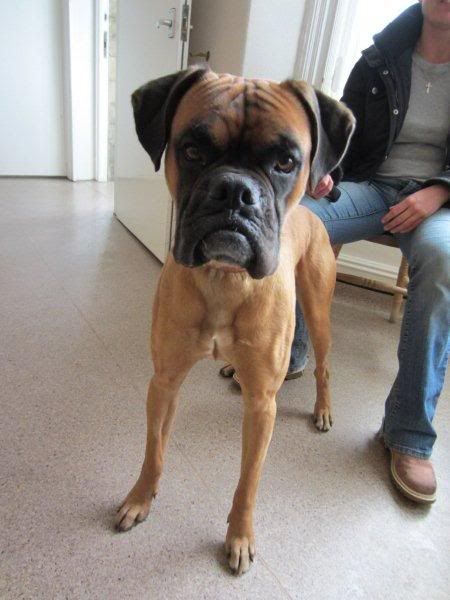 Just a quick update got an email off patricia and john and of course sasha saying the big lad has settled no bother.
Has took me a while to put on here Sorry! Better late than never!

Here is a photo of Mace and Sasha chilling after a RUFF DAY.