Sashs' story





Mark my OH picked up Sash from a housing estate in Birmingham. The lady let him in and she said she would collect the dog from the garden. Mark followed her into the kitchen and tied up inside a plastic kennel was Sash the lady told Sash to get inside and this little waggly girl came up to Mark with her tail going ninety to the dozen. The lady told Mark that she Molts too much and she was fed up with picking up her poo from the garden. Mark didn't really reply back he just noticed the lump on her shoulder and asked her about it and she said that it had been there a couple of weeks and the vet said it was fine nothing to worry about. She then told him that he wasn't to bother even showing her another dog as she cant stand them and that she couldn't take her out because of it. She then let Mark and Sash out the front door and never even acknowledged Sash she didn't even look at her and then closed the door behind him.

When we got her home she met our two boys she wasn't happy to see them and there were a few grumbling's and dominance behaviour but we just let them get on with it and she soon settled down and the boys just kept their distant. She was possessive over her food and the water bowl with the boys but we could do anything to her and I just think she loved the attention we were given her. Then the next day we took them all out on a walk and she was fantastic she stayed with us the boys didn't bother her and she walked brilliantly with them. Then we noticed her teat at the back looked a lot bigger than the others it looked like she was a boy dog it was that big, We then took her to the vets who said he would have to operate and take off the teat and at the same time take off the lump on her shoulder she also had a smaller lump on her chest which they said they would sort out as well.

By this time her and the boys were firm friends she loves being around them and gives them loads of kisses and snuggles and just follows them were ever they go.



She had an operation on Wednesday to remove the lump and the teat and she came through the operation great. We took her this morning to the vets and they had to staple a couple of the stitches as they came loose and she was such a good girl licking the vet as he was stapling her!!


Anyway here is the stitches on her shoulder and she has thick hair so once it has grown back you wont be able to see a thing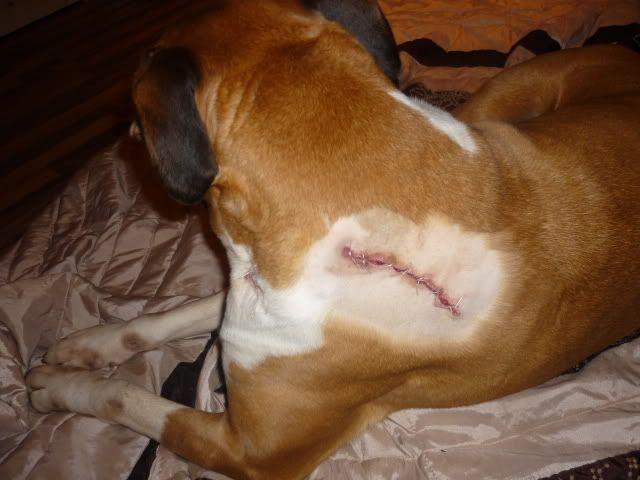 Her teat stitches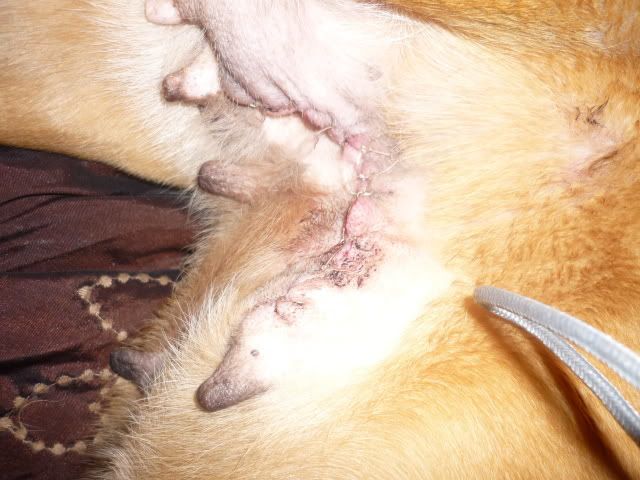 The lump and teat went to be examined and we find out next week if it was something nasty or just a cyst. My vet said this poor girl must of had this on her for months and months !!

when I collected her the receptionist said she was a little angel, then I spoke to the vet and he said that lump had been there for a lot longer than a couple weeks more likely months and months and her teat was again not an overnight problem. He said if her last owners got this seen too when they first noticed it the problems she may have now if the results come back bad would of been avoided and for a younger dog this was all unnecessary.

Sasha was soon offered a loving home, the family adored her. But she only had a couple of happy months - Sasha died of cancer booooooo Hoooooo
RIP;';. Sasha
Beautiful Hurley – 2007 – 2009


Earlier this month, NR Boxer Rescue received a call asking if we had space for a white boxer boy who was currently serving his 7 days in a local pound. He was around a year old and had been handed in to the pound. NRBR agreed to take him into their care and on Valentines day this year we arrived at the kennels to collect him. Immediately, it became obvious that this lovely boy had serious problems as he had difficulty walking, standing and looked really uncomfortable. Regardless, he was signed over to us and we took him home to meet our family.

Hurley in the pound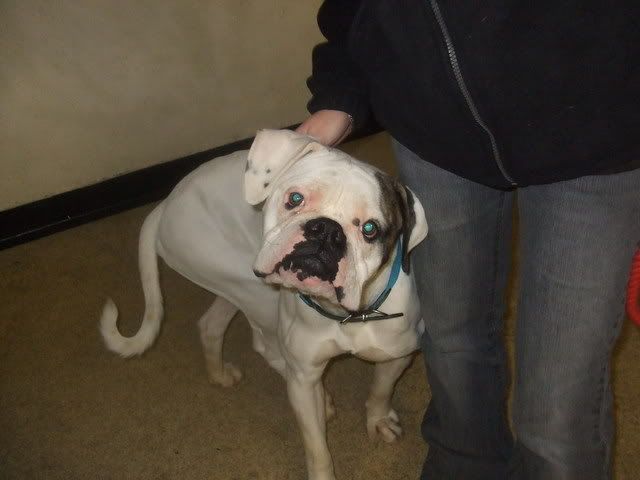 Too Tired to play



Bedtime Stories



After a warm bath.



Lazy Days



After a fantastic weekend, we took him to the vets to be checked over and were told the news that we'd all been dreading. Hurley's future was not bright. After many tests we found that his spine was deformed, caused by a growth defect which was worsening, his hips were not sitting in the sockets and this was causing pain with any movement he made. His feet were turning inwards, his tail broken in at least five places and he had an angry bite wound on his back from a dog attack. Our vet was in no doubt that Hurley was in pain and this would continue to worsen. We were crushed and left the vets numb. We sat watching Hurley all that night, we couldn't see how he was in so much pain? He was walking, went out on lead, followed us round the house but then suddenly as we watched, it all made sense. Once home from a walk the thing Hurley craved more than anything, even water was a cushion. He then spent the next 20 minutes shuffling and turning around and around and couldn't get comfortable. Yes, he followed us around the house but the moment we sat, he lay down. He couldn't really sit for longer than 5 minutes and was laid flat out at every opportunity. And then we felt guilty, because we realised that Hurley would do anything to be with us, and to him that meant suffering the pain he was in. It was blatantly obvious he was suffering once we watched, he'd just soldiered through it.

Next came hours of talks and discussions with the rescue staff.. Could we put to sleep a dog who was here and walking and eating? Could we allow his so far, damn miserable life to continue, knowing he was suffering every step of the way. We called the vets and asked advice about pain relief? He could be a forever foster dog and live the rest of his days in a loving home. Our vet advised that even pain relief would offer short term respite and his condition would deteriorate quickly. A second opinion confirmed this. After 3 days, we all agreed to do the kind decent thing, something that should have been an act of kindness to him months ago but wasn't. We made the decision to end Hurley's suffering and let him run free at the bridge, free of the knowledge of cruelty and pain.

Hurley was with us one short, very emotional week, nowhere near enough for us. He lived that week how every dog deserves to live, knowing that he was cherished and loved. He walked in the countryside, he rolled in the mud, he barked at the cats. He snuggled on the sofa, he ate lots of food and was stroked and squeezed at every opportunity. Almost a week to the day he was saved from the pound, he left this world to run free at Rainbow Bridge. Hurley was no longer in pain, he no longer knew any cruelty. We think he was destined to leave his young life for the bridge to be a guardian angel for all the boxer babies already there.

Hurley touched the hearts of many, especially our members, some who never met him were just as heartbroken to say goodbye. We will never forget Hurley, he's left a huge hole in our hearts but we take comfort knowing that we ended his suffering and gave to Hurley the gift of a pain free future.

Rest in Peace Beautiful Hurley, NRBR's Guardian Angel.


Poor Billy


Poor Billy was another boy dumped in the middle of no where by his cruel owners

We collected Billy and instantly knew he had issues. Billy would love a fuss, lots of cuddles and food. But he would run round and round in circles and from know where try to bite.

Billy was unpredictable in most situations. He bit me badly. In the end after seeing vets and a Behaviourists he was too much risk and had to be PTS.

No one knew what made him how he was, probably had a cruel past or the vet thought maybe a brain tumour booooooo Hoooooo<<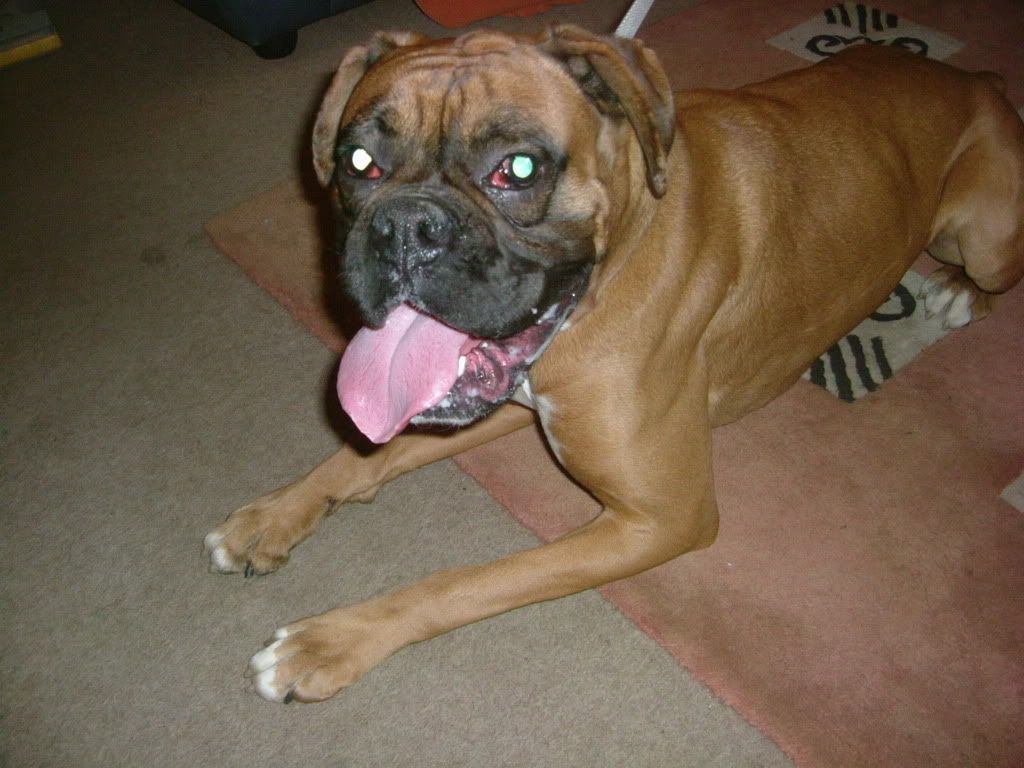 R.I.P Billy Boxer RIP;';. January 2008
I think everyone here will remember the beautiful chops ?

Chops was another case dumped by his fantastic owners - left to walk the streets until the wakefield dog wardens finally picked him up.

He served his 7 days in the pound and the NRBR went to collect him. He was down on paper as a boxer cross but ovbviously he was a bullmastiff. We took him anyway.

He was only about 9mths old - spent a long time in foster with jane and Charlotte.

Chops was messed about so much. Chops was a fantastic dog, I don't think people realise or even care that sending a dog back to rescue can really mess their poor heads up sad<<< Some people should think more deeply before taking on a dog if they aren't prepared to put some work into it.

Chops finally found a fantastic home - he'd been in his home for six months when just last week he became too ill.

At 2 yrs old last week our Chops left for the bridge

RIP;';. Gorgeous Boy Love hearts>? Love hearts>?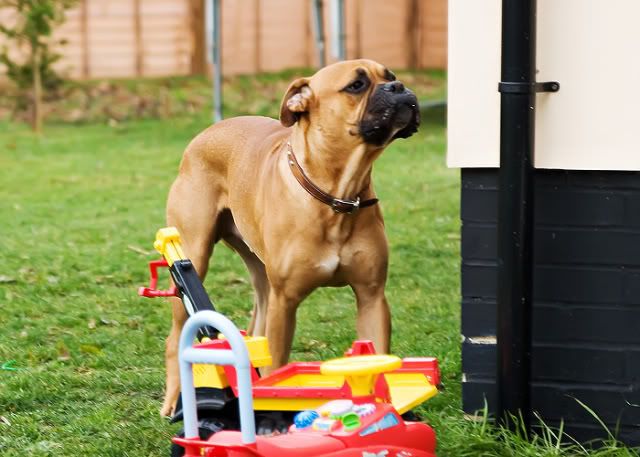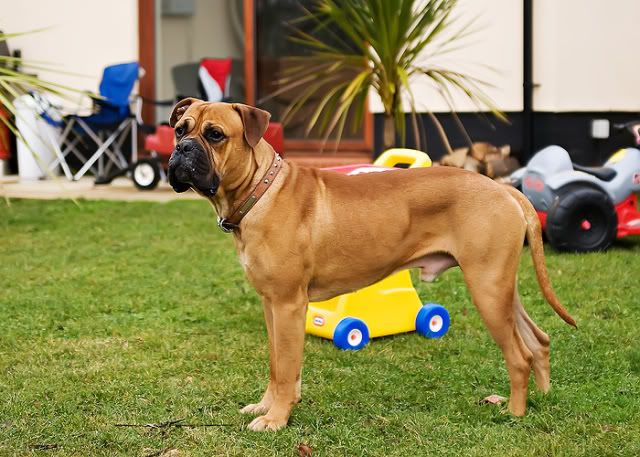 This is so sad for everyone, specially cat and family who fostered Bullseye, and the new family who took him on.

Bullseye was only with his new family for 24hrs and he suffered a massive fit and never came around. Nobody knows what caused it , he had a full medical history and was always in good health.

Poor boy R.I.P Bullseye, only 10 mths old




Homer came from a home who where moving and they couldn't take him with them. He had a major health problem a grade 5 heart murmer (Cardiomyopathy) which meant he could die any time. Homer was 9 months old. We all at NRBR decided that we would take him on and give him what life he had left to be a boxer. He did a brief spell at Gails and then went over to Rachel and they all loved him and loved the way he was. He then came to me and Kev one of our members of our team did a long transport run and got Homer to my house, it was pretty late but Kev said he was blessed to have done it so he could meet this gorgeous boy. Kev left and I did the introductions to my two boxers, first he met Bauer, there was a silent pause but then he was kissing and boxer boxing him and they started to run around the garden and that was it they were best mates.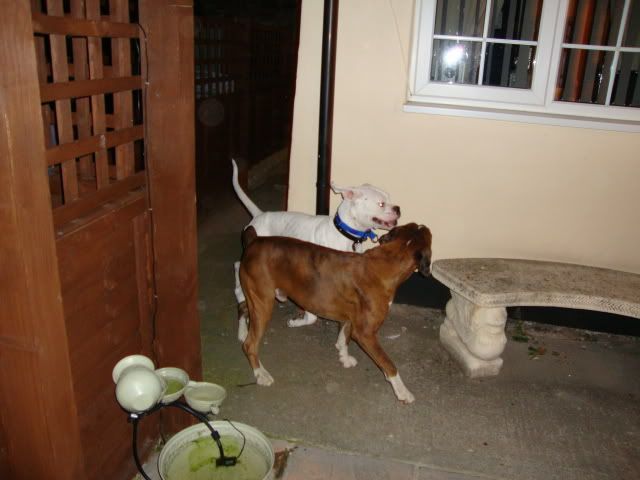 Then he met Rufus my insane whitie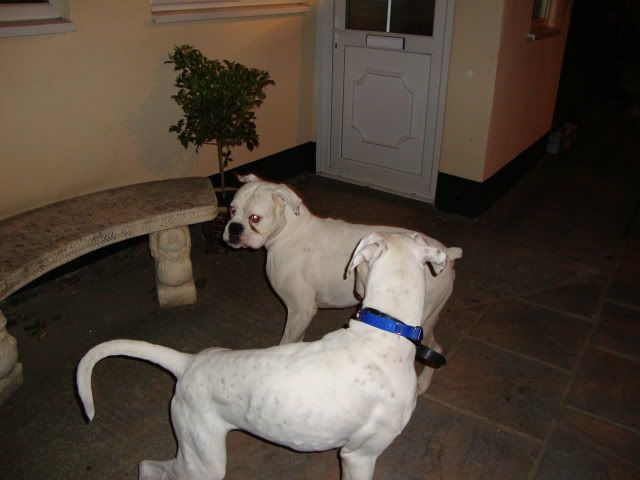 As you can see they all got on fab and when he got in the house he was so happy and lively just like a big gangly boxer pup should be.

The next day I took the car down into the field and we did a short walk I had him on the extendable and my two where going mad around me and Homer really wanted to play so I let him off and he had a good old boxer play fight with the boys then came back to me, he was tired but his face looked so happy that he could be let off lead. We took a gentle walk back to the car and then he was fine given the boys lots of kisses in the back.

We took it easy with Homer but we never stopped him playing with the boys the only way boxers can play and he just looked happy all the time and his tail never stopped wagging and It hurt when it wacked against you!!

Just look at his happy gorgeous face.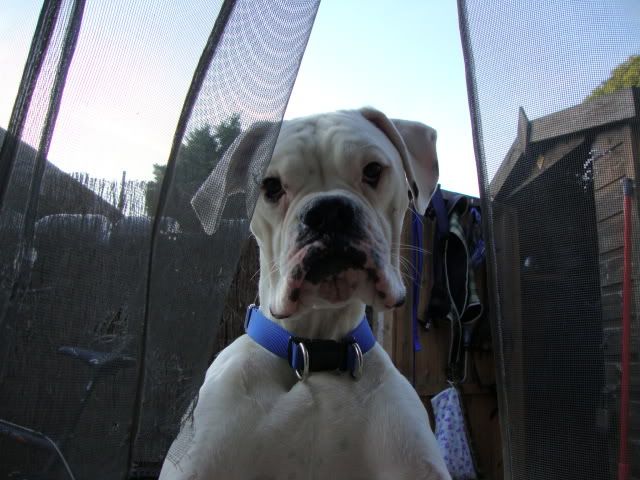 We then had some news that someone called Stuart wanted to adopt Homer and give him a forever home, I was pleased for Homer but sad that he was going as I just fell totally in love with him and so did Mark. So I arranged with Stuart to come up on the Saturday to meet Homer and to collect if they all got on. Friday night I got myself all upset because I just wanted him to be my baby but I know I foster and have always said I would only have 2 permanent boxers and always have a foster. So we had a chilled out evening and Homer was very clingy and wanted extra cuddles from us.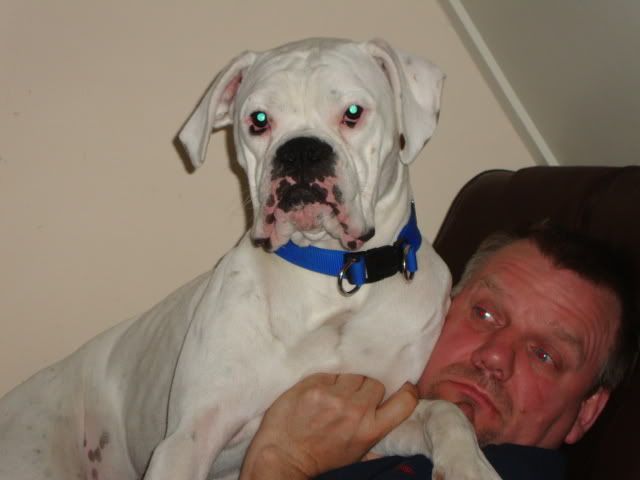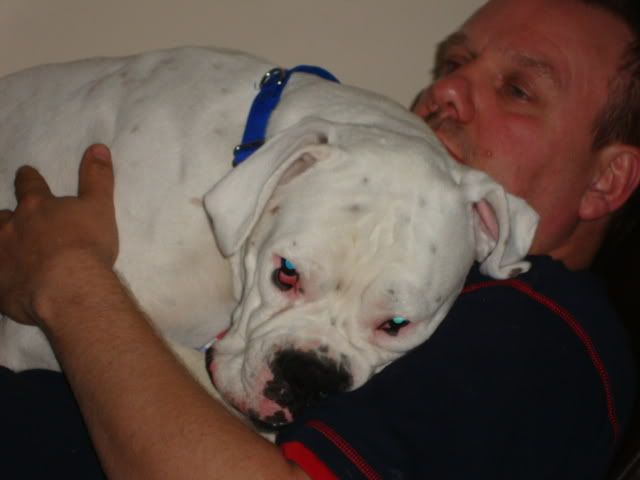 Well Saturday came and he had his breakfast (he loved his food!!) and he went outside with the boys and they were playing around. I went out and Homer was on the floor and it was if all the colour drained out of him, his eyes were open and he looked as if he wasn't there. Mark went and got the vet whilst I sat with him telling him how much I loved him and what a good boy he was. Bauer and Rufus were laid down next to him too, Rufus had his head on his back leg and they were both just staring at him. When the vet came he had said he was gone and just reassured me Homer was like a ticking bomb it could of happened anytime.
This boy was in our lives a short week but he has made a big dent in our hearts and he will never be forgotten.

His time with NRBR was good for him he enjoyed being a boxer and by god there was no doubt this boy was a true boxer with all the personality and cheekiness you would find in one. Mark and I decided we wanted to get him cremated so he would always be with us and NRBR Homer Lehany.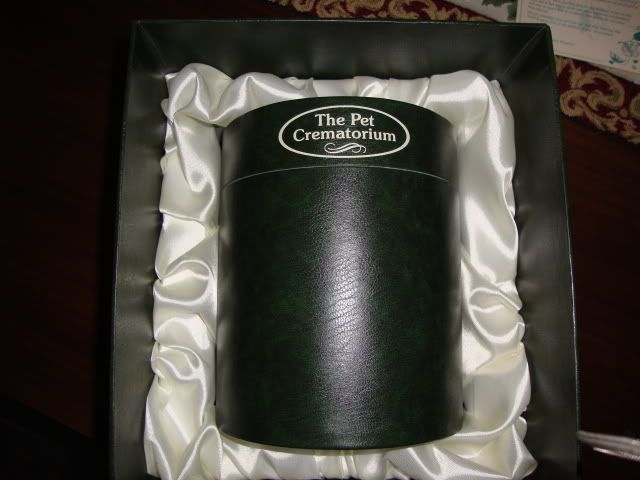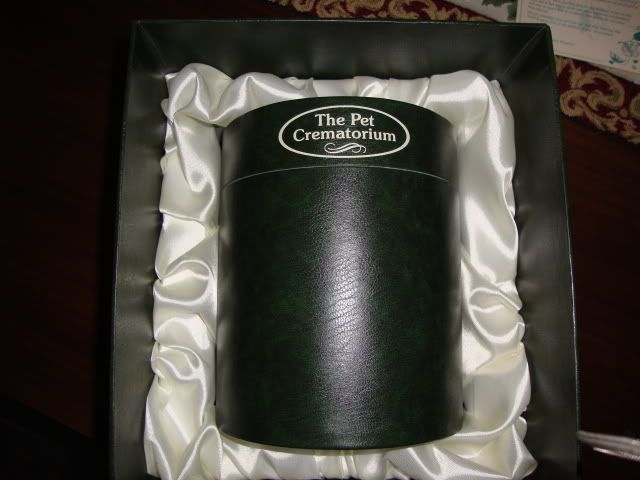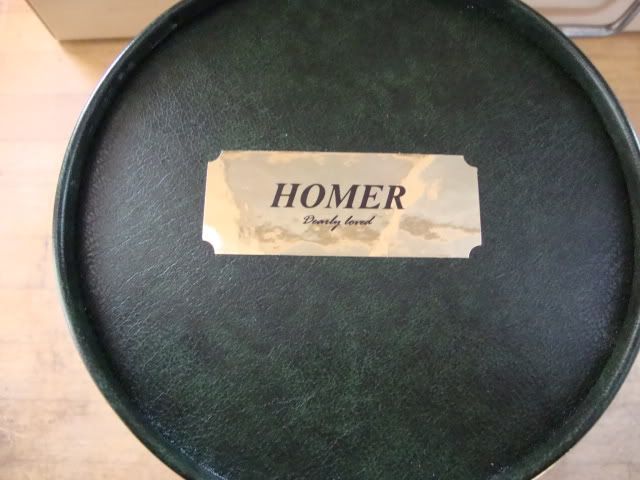 Our beloved boxers truly are some of nature's finest jewels, dazzling us in so many ways. Always mysterious free spirits we are privileged to care for their earthly needs. None of us know just how long we are destined to stay on this earth, but if that time is spent with those whom we love faithfully and who in return love us as family, then surely our lives have been blessed. Always remember your precious boxer with love, knowing that kindred spirits will, in the fullness of time, be re-united. Goodnight Homer xx


Tazzie



Tazzie came to NRBR as a stray had spent along time in her foster home waiting for a forever home that never came a long for her booooooo Hoooooo<<

We didn't have any history on Tazzie as she was dumped, left to roam the street on her own.

Tazzie was very skinny when she first came to NRBR she had deep wounds on her back. Thanks to Cat and family she was soon putting weight on and being shown the love she had obviously always missed out on.




Sometimes things just don't work out, NRBR and the fosters carers all try their best to give these poor dogs a chance.

Tazzie became ill and so was showing servere aggression. We had no choice but t let her go to the bridge booooooo Hoooooo<<

RIP;';. Tazzie
A big thankyou to Cat and her family for giving this girl a few months of happiness
Ellie

Ellie was a neglect case. She's only 3 yrs old.

We were told this girl had been under vet treatment for months. Our vet said there was no way this girl had ever seen a vet, no vet would leave her un-treated like that.

I picked ellie up from our vets. She was in a mess. Her skin has been left to rot for months, it had been left that long alot of her skin has turned black and died, alot of it was still full of infection and oozing puss.

Her ear canals were completely were closed up as she has massive infections inside, I would try to lift the ear flaps up and they just ooze puss and blood.

Her eyes were badly infected, her eyelash's turned in and had been scraping against her eyes and caused scaring/scrathes on hereyeballs , when we touch her eyes to put drops in lot's of puss came out, her eyes will be operated on once the infection is under control.

She can't walk very well, she's weak and sore, she's dosn't want to get up it has to be forced.

She's not got alot of life in her at the moment. She's in pain and the infection all over her will be knocking the hell out of her.

It's not nice for her at the moment and to think she's been suffering like this for a long time! But she'll be ok in time. She got a carrier bag full of medication, Pain killers, anti-biotics, anti-inflams, eyes drops, eye drops, Stuff to bath her in to help bring down the surface infection. Hopefully these will all kick in soon so she'll feel abit better.

The vet can't do any skin scraps till the puss is under control.

She absoloutly stinks of infection and she looks so sad, she reminds me of how Samson used to look and act when he first came to us.

Here is the gorgoeus Ellie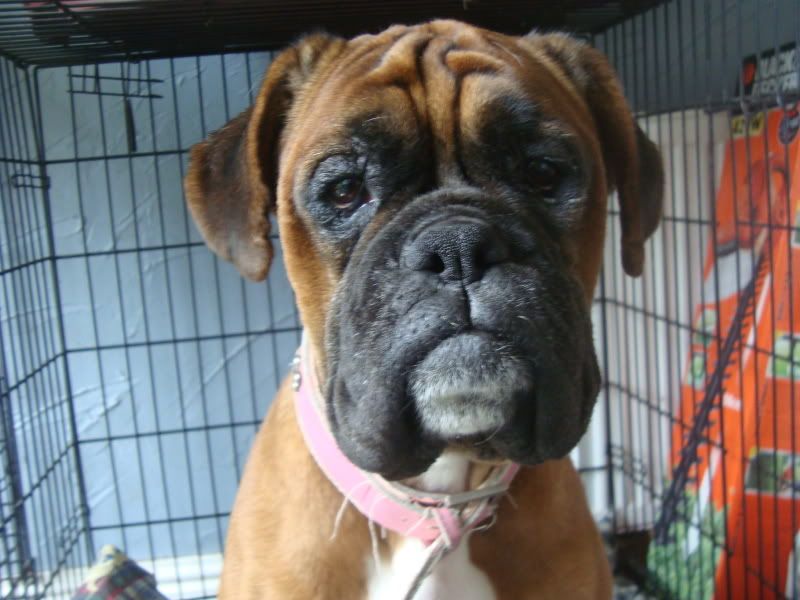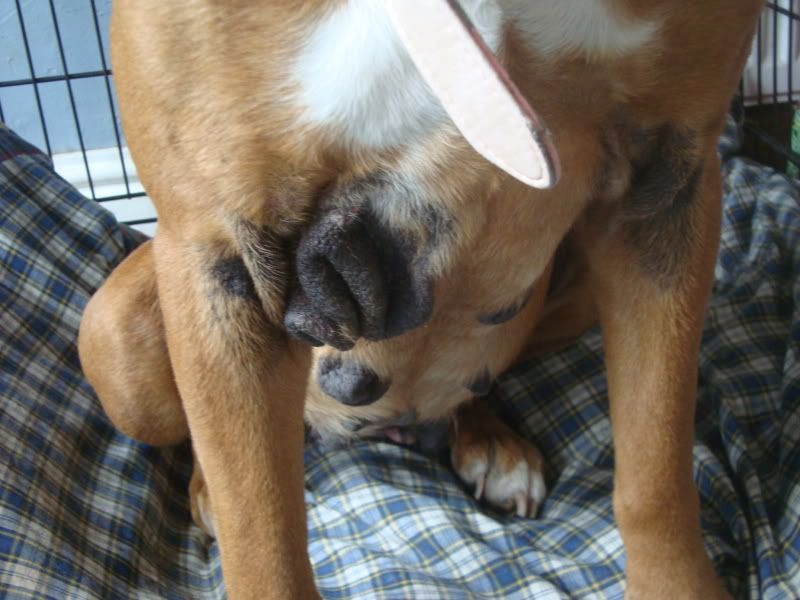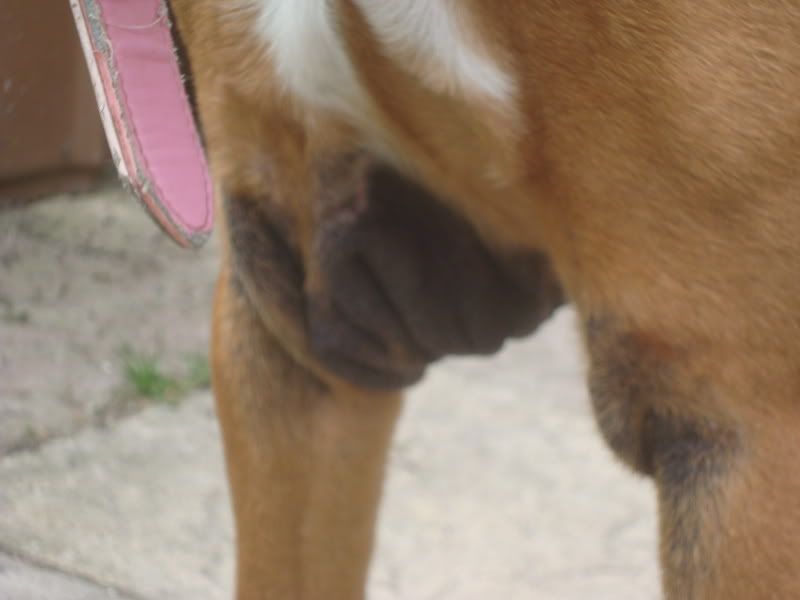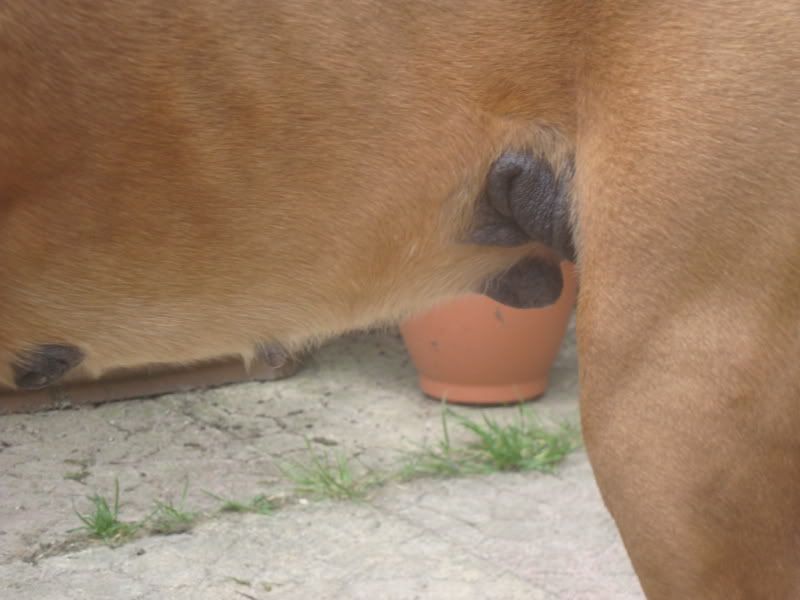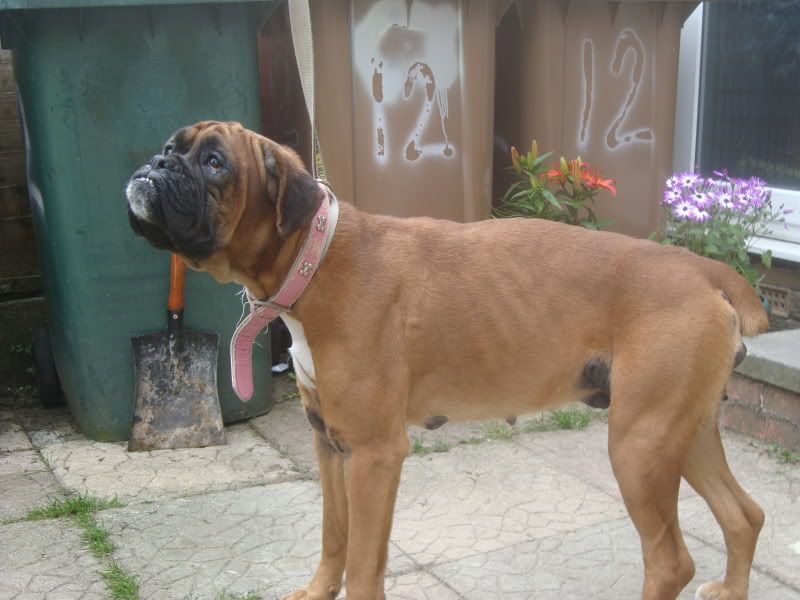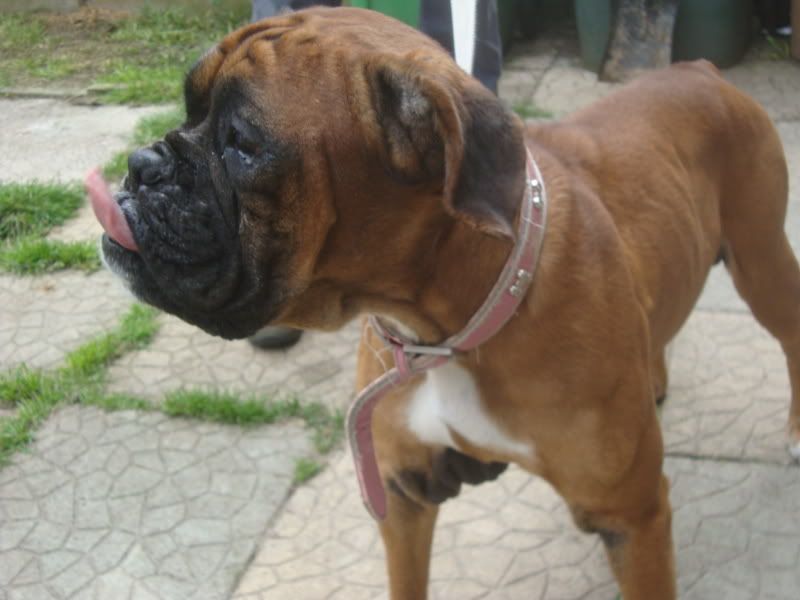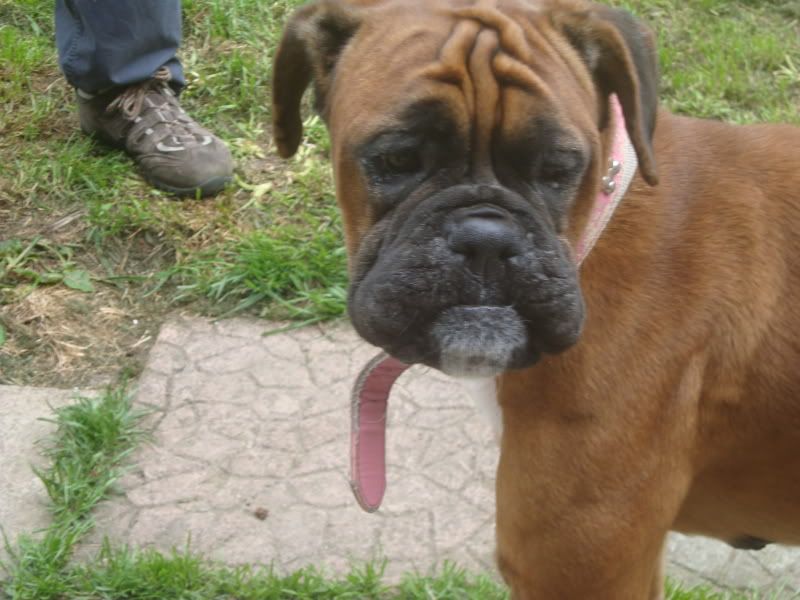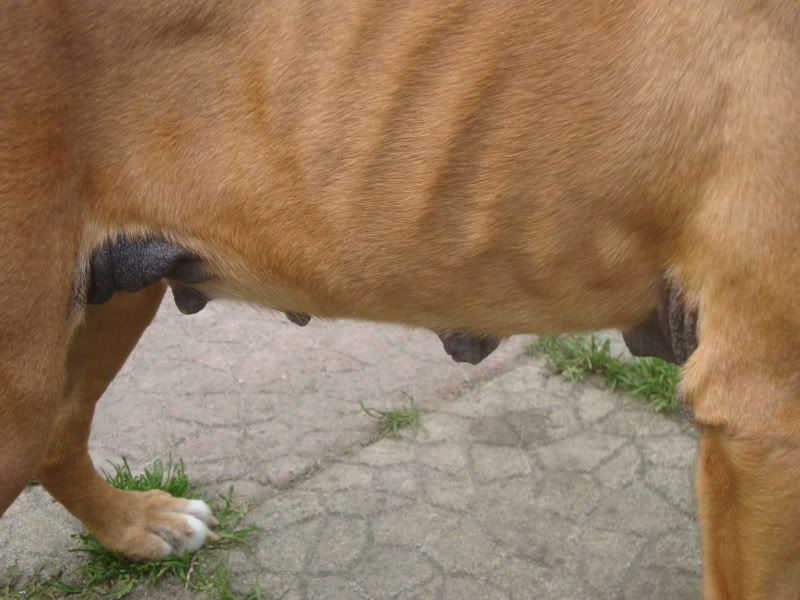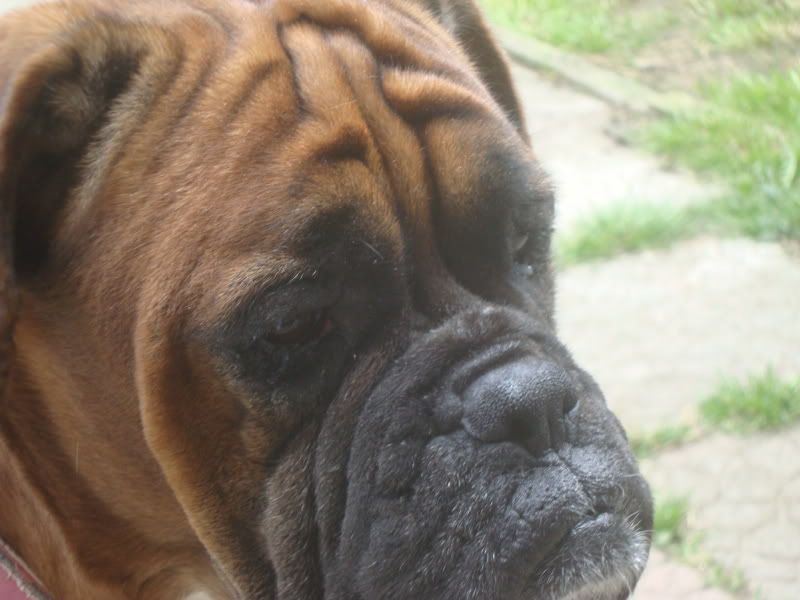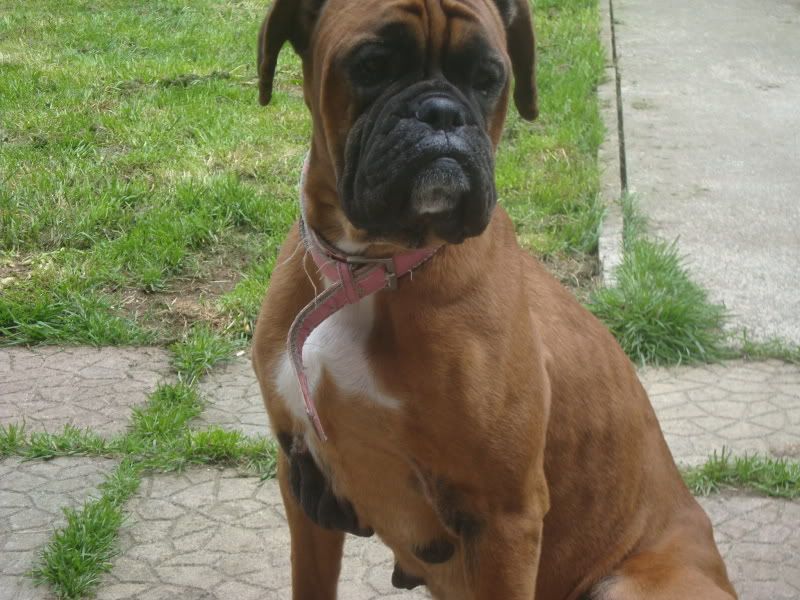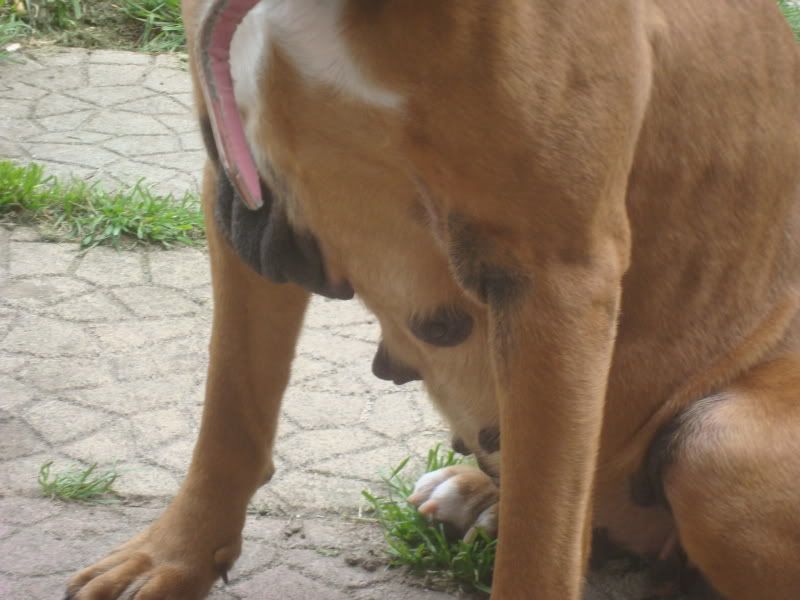 A few days later .....

She's not too bad, she's up and down. I think alot of it is to do with all the meds kicking in.

She's back at the vets monday so I'm hoping she can have a skin scrap then and blood tests.

Her eyes are looking alot better today, not as much puss coming out.

She had her first bath today, It was minging. She really didin't like it, I had to wear gloves and rub/clean out all her dead skin folds, it was horrible, there were loads of black bits of dead skin falling off, but I bet she feels lots better for it ! She dosen't smell as bad of infection now.

I will try and get some more photos - Specially ones of her teethies , they're so cute Love hearts>?

Ellie soon started to go down hill booooooo Hoooooo<<


Ellies been drinking so much water it's unbelievable. She's drinking bucket after bucket now.

We've just had her to the vets, she's had a scan, they found her bladder was very stretched and massive, he said she's been drinking excessively for some time.

She's had full blood tests so I'm just waiting for him to phone with the results - should be in the next hour.

I just hope she's going to be ok, she's so sweet *FGingers crossed((

Ellie will be having further tests on her liver next week.


We brought her into the front room for some snuggles.

She's lost 3kg in the last five days <,Dunnoa//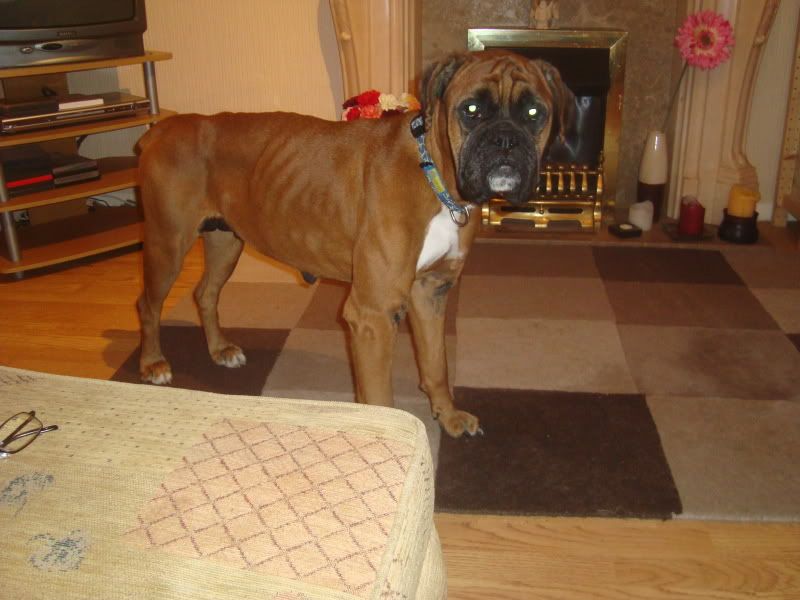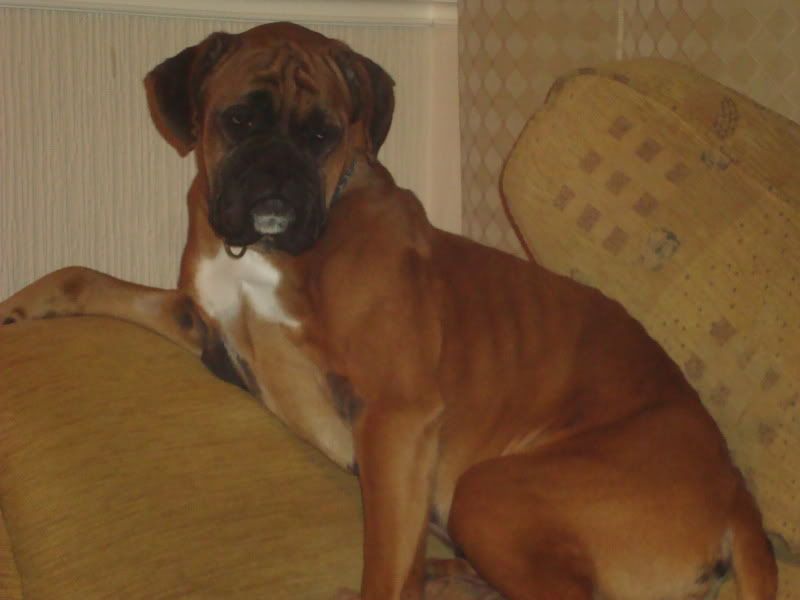 Her ears are looking alot better, their not closed up anymore, the swellings starting to go down and the infection in there improving.

This wee girl also has the sweetest nature possible.

She's sooo good at taking her meds. etc.

A few days later things were looking much worse for Ellie sad<<<

She's at the vets now. Vet says she has gone down hill so fast in the few days, if I'd brought her back home she won't last.

She's having xrays done on her chest at the minute. She'll be having blood tests on her liver, then they will try get some fatty food down her and give her more blood tests.

Vet doesn't think it looks good for her now. But she's there in the vets getting the chance so we're all hoping here <crossed<<, <crossed<<, <crossed<<,

The vet's just rung. I'm in bits here.

Her xrays show a massive blockage in her stomach, most likely due to stomach cancer/tumours. If this is the case then she isn't going to make it.

She going under now and they will open her up, if it's tumours she will be put to sleep while she's under.

Vet thinks its highly unlikely it can be anything else but I'm praying it is booooooo Hoooooo<<

If there's any chance for her at all we will take it. she really deserves to feel well for once. I can't believe it, she was responding so well to her treatments for the infections, now this *BOOHOO*(

Later that night .....

Ellie started to fit, she lost all her strengh and couldn't stand up. She lost her fight early hours and the kindest option was to have her PTS. booooooo Hoooooo<<

Ellie was one of the sweetest Boxers we had ever met.



RIP;';. Girl hugsxxxx hugsxxxx

NRBR incurred huge vet bills which came to over £1000 for Ellie.

A massive thankyou to everyone that supported NRBR and helped with our Auction to raise the funds to give this girl a chance


Well I think most on here remember Samson ...

Happy ending for once
He came to me from the pound, transported by rachel and scarlett, he was in a pretty bad way and feeling very sorry for himself, his skin was so sore, but his problems we malnutrition more than anything.

He had a bad few weeks, then he started to pick up and gain the weight back
Samson was my favorite ever foster boy ....

He landed himself a fantastic home i the end with Ben and Sue ''headbang'':

Anyway... I found his photos again so thought I'd put them up on here

Picture heavy..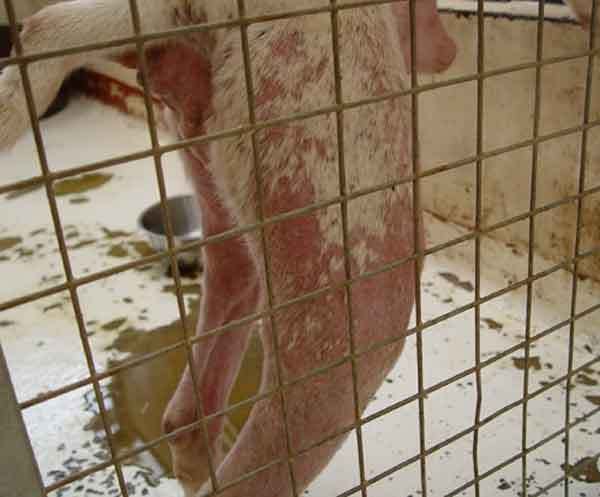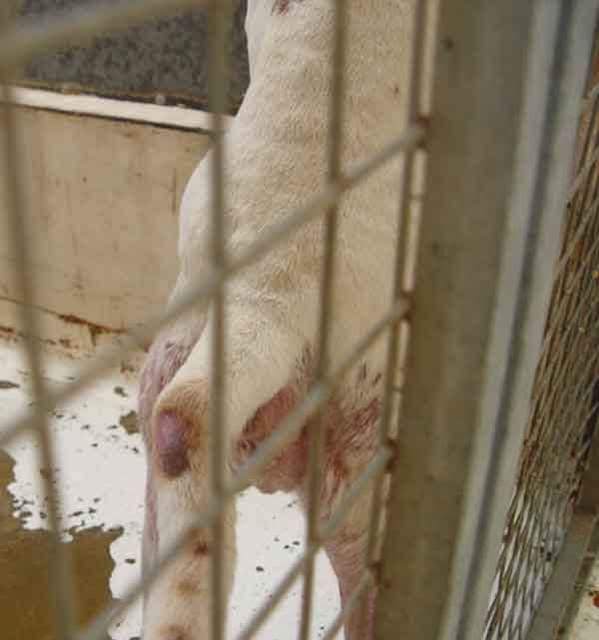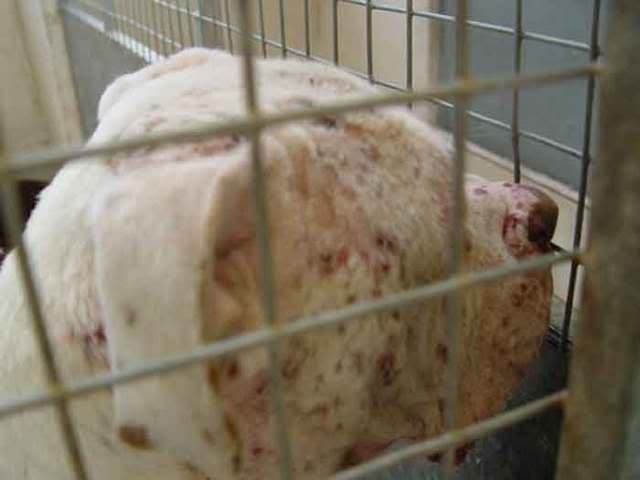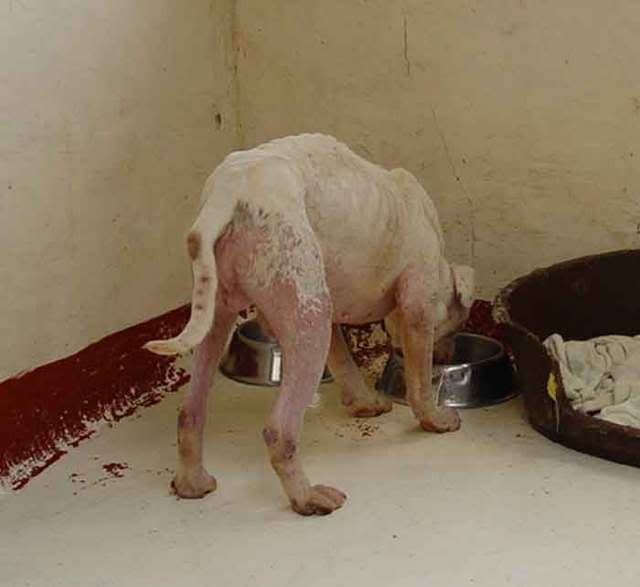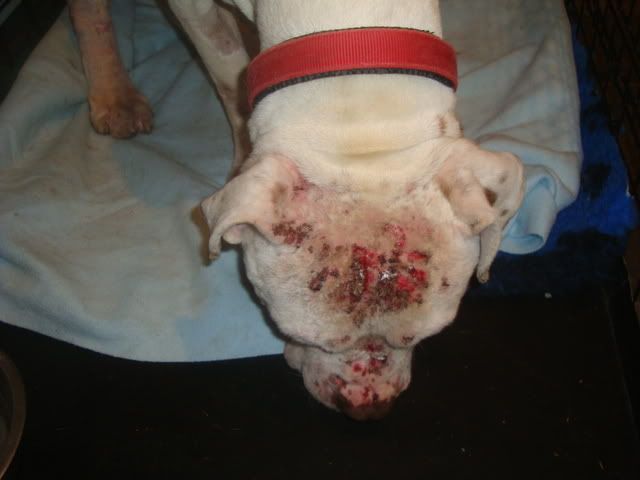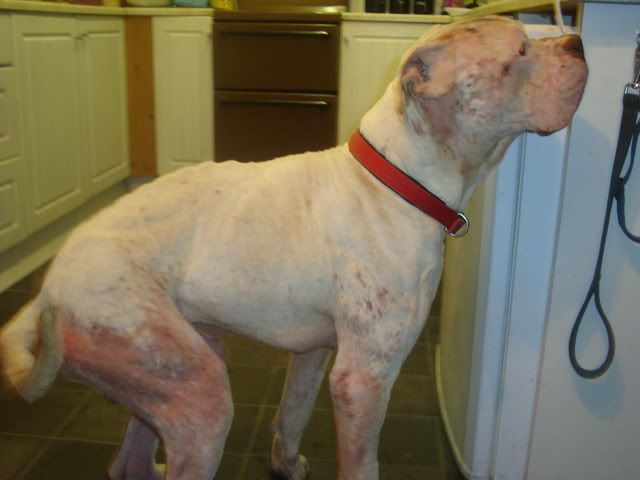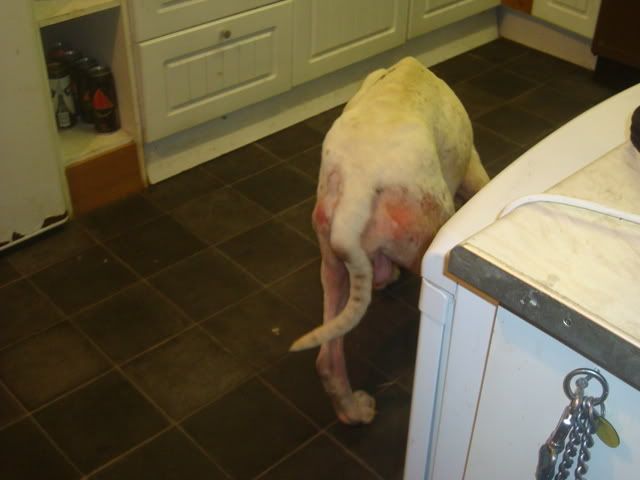 My favorite photo <<angel....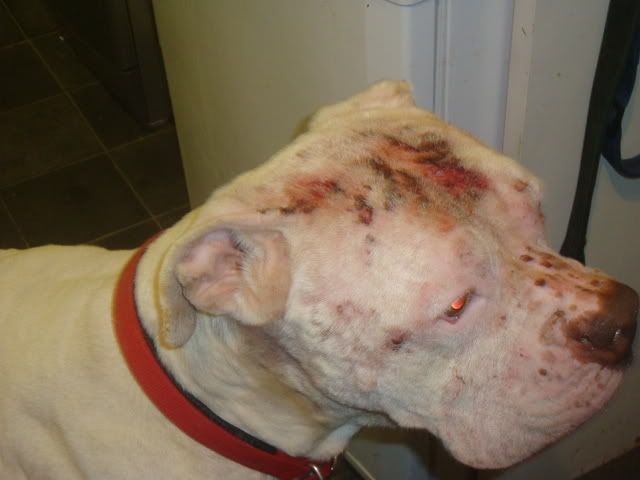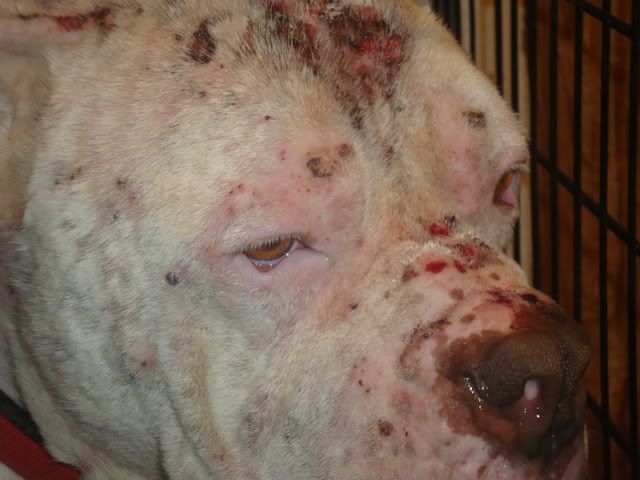 On the mend...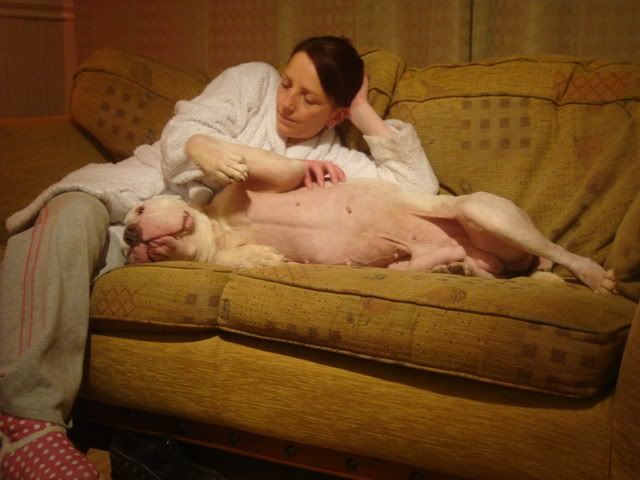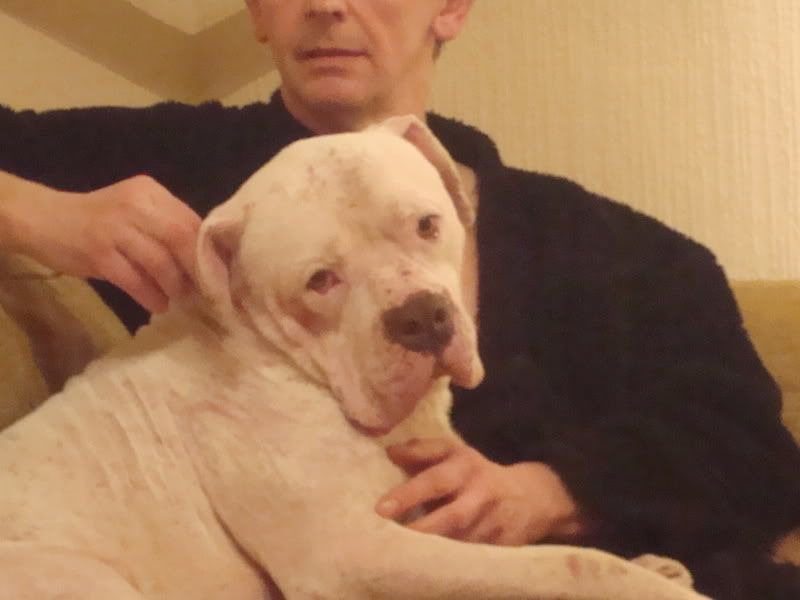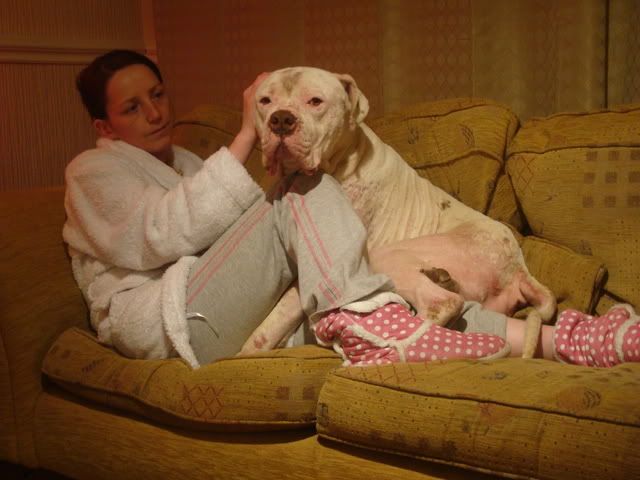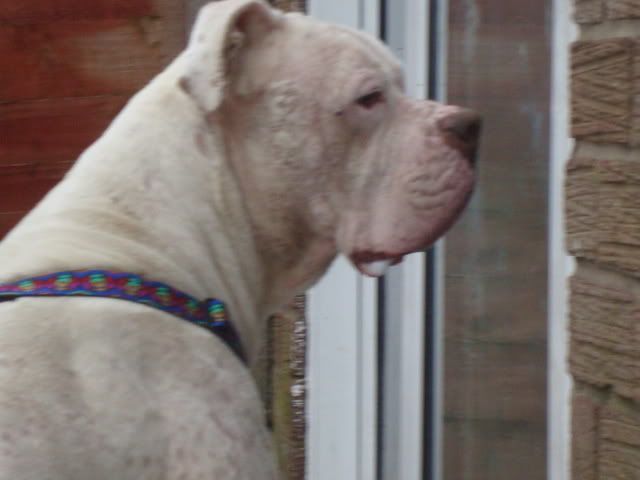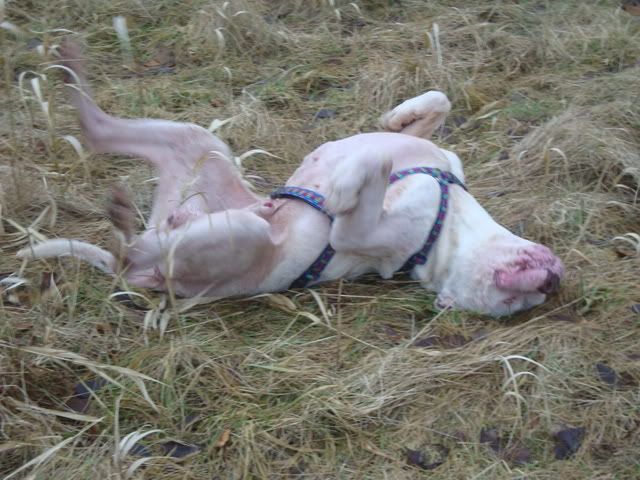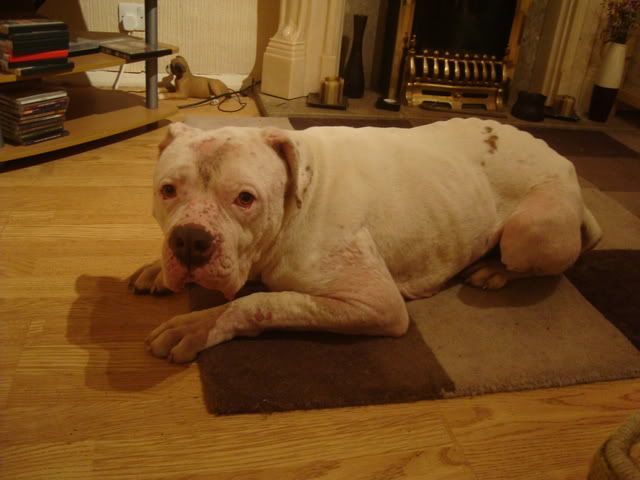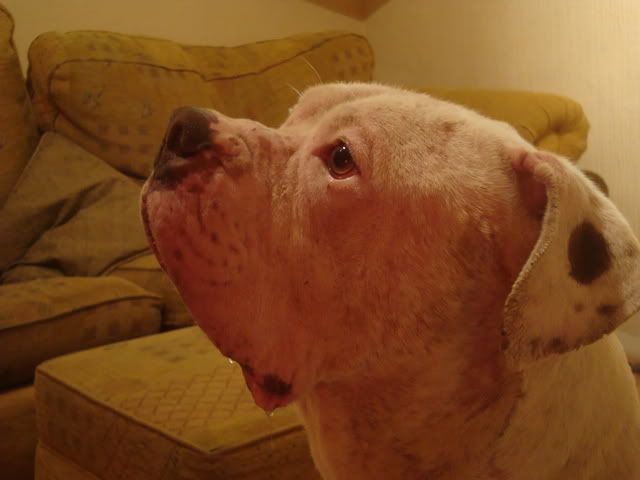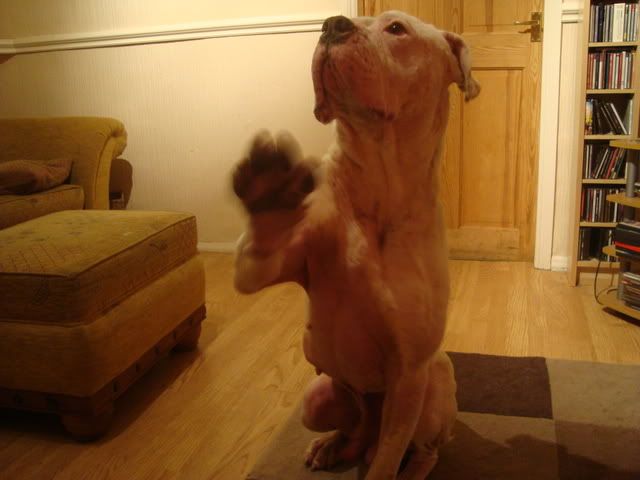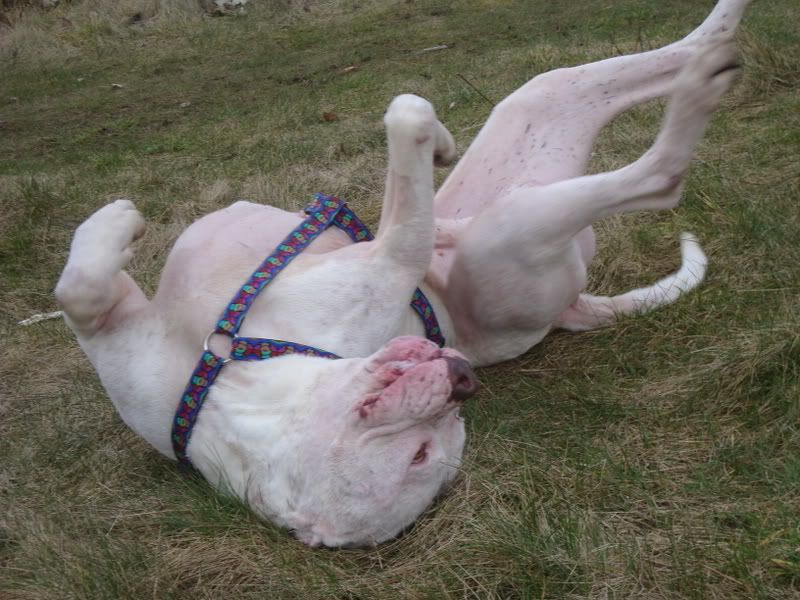 Kimmie>>>> Kimmie>>>> Kimmie>>>>



Love hearts>?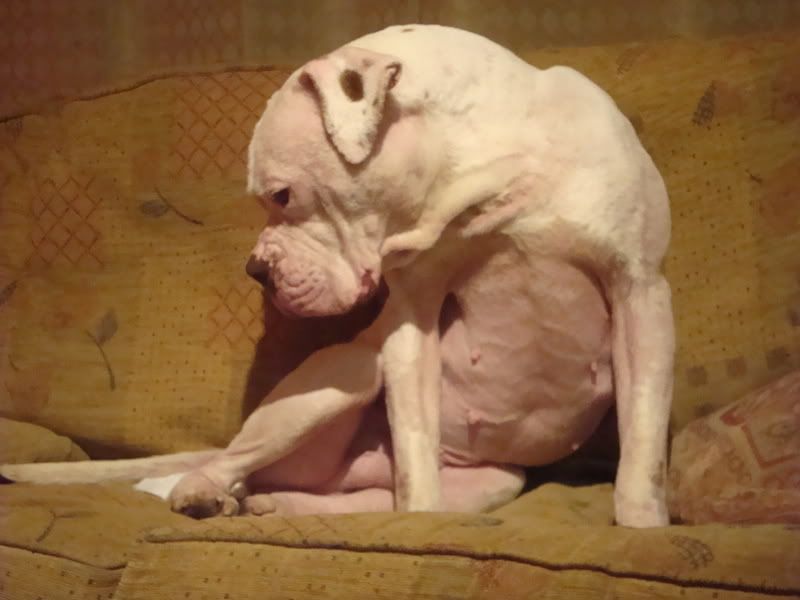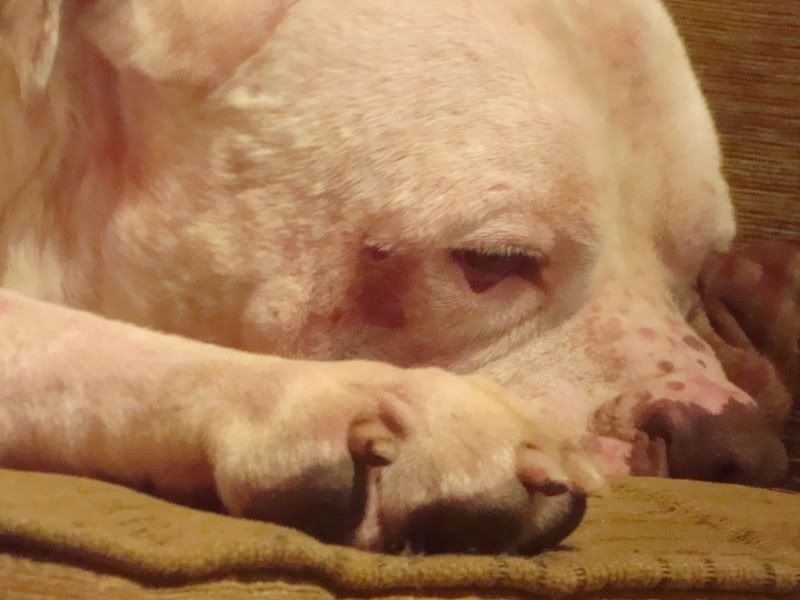 You never know what you are getting with a dog like this, but from day one his nature was fantastic, we couldn't fault him in anyway, he was so worth it. He was a greedy bugger and would do anything for food
UPDATE FROM SAMSONS NEW OWNERS...
Wel words can't express how we feel about this little lad and the people who not only helped rescue him but all those who donated to help keep him alive and get him to a state where we were able to take over and build him up into the gready cuddle monster he is today. He's a big hit with everyone who meets him.
He's had to have a mole removed as it kept catching and gushing blood everywhere despite having tiniest nick, made him look like he was always fighting

Then he had to have a toe off due to infection, so he's getting things come through from time he was abandoned but he takes it all in his stride and as long as there's food around he just carries on and takes it all in his stride.